POTIONS: HOW TO BREW AND USE IN BATTLE!
Potions are a special item you can craft in Brewing Stations and then can use in battle. You will be able to carry potions with you and use them in combat to enhance your offensive and defensive capabilities.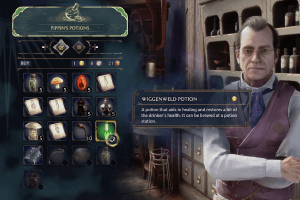 To learn how to brew potions, you will have to attend Potions Class. In this class, Aesop Sharp will teach you where to find ingredients and the recipes to brew the potions. You will also find potions and ingredients from shops and possible as treasures. Ingredients will often include Plants and Beasts produce.
All Confirmed Hogwarts Legacy Potions
potions
name
brew time
duration
effect
ingredients
Wiggenweld Potion
0min 15sec
0min 0sec
healing

1x

Horklump Juice

,

1x

Dittany Leaves
Edurus Potion
0min 30sec
0min 20sec
reduce incoming damage

1x

Ashwinder Eggs

,

1x

Mongrel Fur
Invisibility Potion
1min 0sec
0min 4sec
invisibility

1x

Knotgrass Sprig

,

1x

Leaping Toadstool Caps

,

1x

Troll Bogeys
Focus Potion
1min 0sec
0min 15sec
reduce cooldowns

1x

Lacewing Flies

,

1x

Fluxweed Stem

,

1x

Dugbog Tongue
Felix Felicis Potion
1min 0sec
49min 0sec
reveals large loot chests

1x

Lacewing Flies

,

1x

Fluxweed Stem
Maxima Potion
0min 30sec
0min 20sec
increased spell damage

1x

Leech Juice

,

1x

Spider Fang
Thunderbrew
1min 30sec
0min 30sec
creates a stunning and damaging storm

1x

Leech Juice

,

1x

Shrivelfig Fruit

,

1x

Stench of Death